The popularity of candles within home decor has never been higher. Now that the dark winter evenings have arrived, candles can help to create the perfect cosy ambiance to a room, releasing beautiful scents that fill the house with cinnamon spice or vanilla freshness. Homemade candles are an inexpensive way to fill your home with flickering light, and can be turned into a hobby or business – providing you have the right candle glass. We offer a selection of glass jars for candles here at Jars Direct, which are ideal for use within any home or business. Why Make Container...
---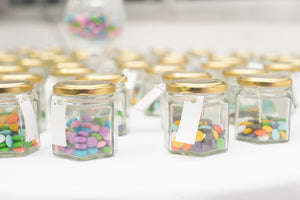 If you're a business owner, you'll already be well aware that preparation is the key to saving both time and money. Regardless of whether you're stocking up for a large order of preserves, or require scores of glass jars for wedding favours, buying wholesale is the ideal choice. At Jars Direct, we believe that quality glassware shouldn't be budget busting, which is why we offer a competitive discount rate for wholesale purchases of our glass jars. From jam jars, to honey jars, and everything in between, buying glass jars in bulk has a number of advantages, which we've listed below: Save Time...
---
With Christmas just around the corner, many of us will be considering the gifts that will be bought for family and friends. With the sentiment of a Christmas gift much more important than the value, homemade gifts have soared in popularity over the past few years. Versatile, easy to make, and cost-effective, glass jar gifts are a perfect way to show someone that you care, presented in a festive and memorable way. In this blog, we've listed four great ideas for crafting Christmas gifts with the variety of glass jars that we offer here at Jars Direct. Fragrance Jars There's...
---
When pickling, preserving and fermenting at home, using the right equipment is equally as important as the seasonal produce you use. To get the perfect pickle, a high-quality, airtight glass pickling jar is essential in order to fully preserve and keep your chosen vegetables. Whether you are making pickled preserves to sell, or are a novice home pickler, our wide range of pickling jars at Jars Direct are available in a variety of sizes and shapes, with perfectly fitted lids to seal your produce. With the option to purchase in bulk across our range of glass jars, we're well positioned...
---
As the Harvest season kicks into full swing, many of us will be picking produce from our gardens, allotments, and from the wild. If you are struggling to decide how to make the most out of your produce, chutneys are an ideal way to use up any kind of fruits and vegetables. Apples, tomatoes and even rhubarb can all be converted into a delicious chutney when stewed with vinegar & spices, before being potted into glass jars for maturing. Here at Jars Direct, we offer a wide selection of wholesale chutney jars for both businesses and amateur chutney makers. Whether...